First Amendment Award (Broadcast)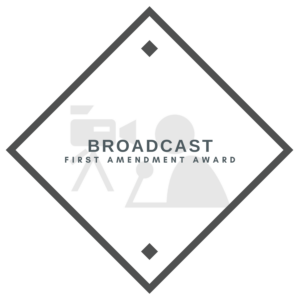 This award is presented for a distinguished contribution to freedom of the press. Entries will exemplify the spirit and intent of the First Amendment and should demonstrate the news organization's ability to fulfill its public service role and to overcome obstacles in gathering information. The recipient committed all necessary resources to overcome obstacles on behalf of the unrestricted flow of information vital to free society. By so doing, the recipient has served the public and has honored journalism. You are encouraged to nominate your own news organization, or another news organization whose work is visible to you, for the First Amendment Award. The award will be presented to individuals or news organizations that made a major contribution during the past year on behalf of the First Amendment or Freedom of Information. If your news organization or an individual was engaged during the past year in an effort to advance or protect the First Amendment concerns of the media and the public, or waged a battle on behalf of Freedom of Information, please attach a letter outlining the details with your entries for the judges to consider.
This is a specialty category within the Keystone Media Awards.
Congratulations to the 2023 First Amendment Award (Broadcast) winners, Keith Blaisdell, Robert Bee and Chris Berg of WHTM-TV, Harrisburg.
---
Past First Amendment Award Winners (Broadcast)
---
Questions? Email the PNA Foundation or phone 717-703-3003.