John V. R. Bull Freedom of Information Award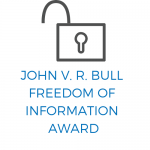 The John V.R. Bull Freedom of Information Award, created in 2002 in honor of the retired Philadelphia Inquirer editor who also was a founding member and leader of the First Amendment Coalition, honors a journalist or newspaper for exceptional work advancing or upholding the cause of Freedom of Information during the past year. Entries might include, for example, stories, editorials or special projects about open government, open meetings, open records, censorship or secrecy in government. Journalists and newspapers in all circulation categories, weekly and multi-day publications, may compete. Entrants must provide a letter of explanation that contains the background of the entry. They may provide supporting material that documents the issue they tackled and what their work has achieved. There is no limit on the number of entries from any newspaper or journalist; however, no more than one award will be given.
This contest is a category within the Keystone Media Awards.
---
Questions? Email the PNA Foundation or phone 717-703-3003.