Account Executive – PA Media Group (Harrisburg, Pa.)
Account Executive – PA Media Group (Harrisburg, Pa.)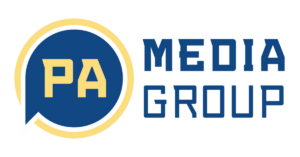 PA Media Group is a full-service sales and marketing organization seeking dynamic, sales professionals interested in growing our clientele and your personal career. We offer competitive base pay and monthly commission structures, making you the driver of your income. If you're a sales media professional with a proven track record of developing digital sales revenue and meeting targets, your search is over. Come join our team!
As an employer, we believe in fostering collaboration and learning. We host monthly Town Hall meetings to keep staff informed of initiatives and share success stories.
We serve businesses throughout the central PA region and beyond with our dynamic product mix. We set the stage for your success with an interactive sales and product training program that focuses on sales techniques and digital marketing solutions.
In this role, you'll meet local business owners and decision-makers to uncover their business needs, conduct cold calling campaigns, collaborate with colleagues to design custom marketing packages, go on sales calls, analyze campaign results and celebrate your successes. Candidate must have strong interpersonal skills in both written and verbal communication, be driven to achieve new business revenue and monthly goals, have ability to upsell and optimize campaigns along with excellent presentation skills and command of product knowledge.
For this position you should have:
Bachelor's degree or equivalent education and experience
Passion for digital advertising
Knowledge of needs-based selling
Proven success of increasing sales in a competitive marketplace
CRM sales management software experience with a leading platform, preferably with SalesForce
Excellent communication and presentation skills — written and verbal
Assertiveness, goal-orientation and self-motivation
Ability to multi-task, handle pressure and work under deadlines
Solid PC skills including proficiency with MS Office Suite, Power Point & Excel (Salesforce experience helpful but not required.)
About us:
We're ranked as the leading news and information source for Pennsylvania by Comscore.
PA Media Group is a digitally focused news media company which publishes and operates PennLive and a growing suite of digital , video and print products. PA Media Group is committed to being the most comprehensive, in-depth source of news and information for millions of readers though quality journalism online at PennLive.com or social channels, newsletters, print publications and more.
PA Media Group is a part of Advance Local, one of the largest media groups in the United States, which operates the leading news and information companies in more than 25 cities, reaching 50+ million people monthly with our quality, real-time journalism and community engagement. Our company is built upon the values of Integrity, Collaboration, Accountability, Fearlessness, and Customer Focus. For more information about Advance Local, please visit www.advancelocal.com.
Advance Local Media is committed to creating a diverse environment and is proud to be an equal opportunity employer, encouraging applications from people of all backgrounds. All qualified applicants will receive consideration for employment without regard to race, color, religion, gender, gender identity or expression, genetic information, national origin, age, disability, sexual orientation, marital status or any other category protected under federal, state or local law.