G. Richard Dew Award for Journalistic Service (Keystone Media Awards)
G. Richard Dew Award for Journalistic Service (Keystone Media Awards)
Email
foundation@pa-news.org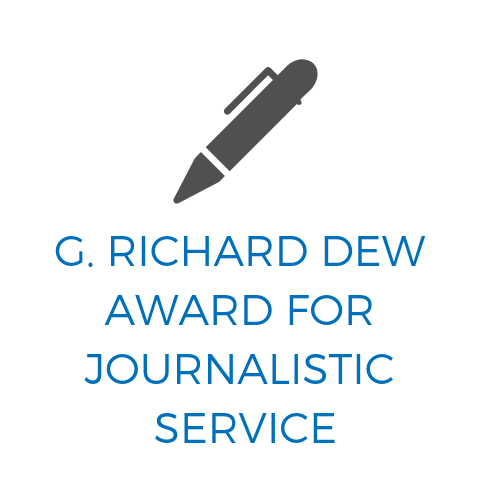 The G. Richard Dew Award, the PNA's most prestigious honor for outstanding journalism, was established in memory of G. Richard Dew, former general manager of PNA (then named PNPA) and former executive director of the Pennsylvania Society of News Editors (PSNE).
This award is given to an individual or organization that has made an outstanding contribution to the community or state through an article or series of articles published in print and/or online, that demonstrate improvement in the quality of community life, enhancement of public understanding of the role of the news media, and journalistic responsiveness to matters of public interest.  The entry must include a description of the activities and contributions made to the community or state. Please be direct and specific in your narrative. Attach any news articles or materials and include working URLs that support the nomination.
Congratulations to Peter Smith, Shelly Bradbury & Stephanie Strasburg (Pittsburgh Post-Gazette), winners of the 2020 G. Richard Dew Award!
This contest is a category within the Keystone Media Awards.
*Due to the ongoing COVID-19 crisis, the May 30 Keystone Media Awards Celebration has been canceled.  The PNA Foundation is reviewing alternative ways of recognizing and celebrating the outstanding efforts of professional PA journalists.  More information will be available in the coming months.  Thank you for your patience and understanding as we work through these changes that are affecting all aspects of our lives.
Questions? Email the PNA Foundation or phone (717) 703-3003.