The Lenfest Institute Diverse Journalist Award
The Lenfest Institute Diverse Journalist Award
Date
Contest open - deadline to enter is January 31
Email
foundation@pa-news.org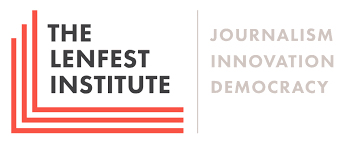 This special award recognizes a talented journalist, of a diverse background, for outstanding contributions to his or her newsroom. Diversity includes, but is not limited to, factors such as: age, ancestry, color, disability or handicap, race, religious creed, sexual orientation, veteran status and economic status.
Entry should include three examples of work produced and published. Could include stories, photos, videos, special projects, use of various platforms and other examples of person's impact on his or her newsroom. (Entries may be submitted in other categories.) Entries will be judged together for overall excellence. Nominating letter (unlimited words) from supervising editor required. There is no limit on the number of entries from any newspaper or journalist; however, no more than one award will be given each year.
Entries now being accepted! This contest is a category within the Keystone Media Awards.  Deadline to submit entries and online payments is 11:59 p.m. on Friday, January 31, 2020. Mail-in or call-in payments must be received by 5 p.m. on Friday, February 7, 2020.
Enter Now!
Winner will receive a personalized plaque as well as a $500 cash award, sponsored by The Lenfest Institute.  Award will be presented at the Keystone Media Awards Celebration on Saturday, May 30, 2020, in Harrisburg.
Questions? Email the PNA Foundation or phone (717) 703-3003.