National Newspaper Week 2022
During the first week of October, our industry recognizes the editors, reporters, sales teams, press operators and managers who contribute to producing the "daily miracle." It takes a dedicated team to ensure that our readers have access to quality, truthful journalism.
The Pennsylvania NewsMedia Association designed a series of resources for our members to use during National Newspaper Week – Oct. 2-8, 2022.
A print and digital ad campaign.
Guest columns from PNA President Brad Simpson, PNA Board Chairman Harry Hartman and Trib Total Media CEO Jennifer Bertetto.
An editorial guide to assist you in writing your own, locally focused National Newspaper Week editorial.
A sales support flyer to assist your marketing teams generate new revenue.
International Carrier Day ads and additional resources.
If you have any questions or need any assistance, please email marketing@panewsmedia.org.
Times of Your Life Ad Campaign
The Times of Your Life – Newspapers Chronicle Your Journey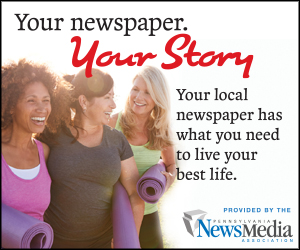 No matter your stage in life, your local newspaper has the content that is most meaningful to you. Whether you are looking for your first job, a new home, an exercise class or your grandkids' sports scores, your local newspaper has what you need to live your best life.
These ads are provided at no charge to members of the Pennsylvania NewsMedia Association.
Statewide Ad Campaign Request (National Newspaper Week 2022)
National Newspaper Week Guest Columns
Brad Simpson
PNA President
Pennsylvanians: Trust in local newspapers
Local newspapers are at the heart of communities across the commonwealth. Why? They are trusted sources for news Pennsylvanians cannot get anywhere else.
It really is that simple.
Long established on Main Streets in the boroughs, townships, counties and cities they serve, local newspapers report on tax hikes and business closings, new restaurants and farmland conservation, high school sports and fall apple festivals. Read more.
Download PDF
Download Headshot
---

Harry Hartman
Chair, PNA Board of Directors
Local newspapers are here because of you
It is National Newspaper Week, Oct. 2-8. These are seven days set aside each year for us to recognize the extreme importance newspapers have in communities across the United States and around the world. No matter how our industry changes we will always be there in some form, whether in print or on those little devices we all carry with us 24/7. Read more.
Download PDF
Download Headshot
---

Jennifer Bertetto
President and CEO, Trib Total Media
Small media outlets vs. Big Tech
Earlier this year, I testified before a Senate subcommittee about the Journalism Competition and Preservation Act. The JCPA lets smaller media outlets negotiate as a group with Google and Facebook, seeking fair compensation for use of their work.
As a local news publisher in Southwestern Pennsylvania, I support this important legislation. That's no surprise. But you may be surprised to learn about the broad bipartisan support for JCPA from the start. Read more.

Editorial Fact Sheet
As we launch into National Newspaper Week and celebrate all our industry has accomplished, we encourage our members to remind their readers about how newspapers support the communities they serve. Our industry is committed to producing the "daily miracle," whether it is the coverage provided by journalists in the field, the marketing assistance offered by sales teams, or the regular door-to-door delivery of the news product.

Advertising Fact Sheet
Shopping is an emotional experience. Finding that perfect pair of shoes, trendy new restaurant or quality home contractor is exciting for the consumer. Knowing that your advertising message appears in a quality publication and will be seen by potential purchasers is exciting for the retailer. Pennsylvania newspapers provide both audiences with what they need most.
Download the Advertising Fact Sheet
More National Newspaper Week Resources