Promotional Spotlight: Chestnut Hill Local's The Local Prophet
Promotional Spotlight: Chestnut Hill Local's The Local Prophet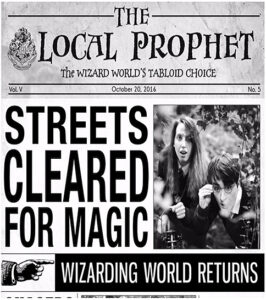 If you've ever wondered what Butterbeer really tastes like, or want to watch someone catch the Golden Snitch in a high stakes Quidditch match, mark your calendar to attend the annual Harry Potter Festival in Chestnut Hill on October 20-21. While you're there, be sure to pick up a copy of The Local Prophet, a free newspaper produced by the Chestnut Hill Local, that contains interesting information about the festival, local advertising, and for some extra magic – special effects.
The Chestnut Hill Local has been involved with the annual Harry Potter Festival since day one. For the first event, the newspaper developed a four-page publication called The Local Prophet (a nod to the newspaper in the Harry Potter books called The Daily Prophet) to hand out to those in attendance. Since that time, it has grown to 20-pages, and is strongly supported by local advertisers. Last year, with the help of an augmented reality app, readers were able to scan photos in the publication with their smartphone to have images move around on the page, and allow music and video to begin to play.
More than 10,000 copies of the newspaper are published, which includes many that are distributed throughout Philadelphia as a promotional piece for the event. Due to the popularity of the Festival, and the local advertisers' support of the event, The Local Prophet has been a non-traditional revenue generator for the Chestnut Hill Local. Wands up to that!
For more information, contact Chestnut Hill Local.