Promotional Spotlight: Holiday Editions
Promotional Spotlight: Holiday Editions
Holiday Editions: Exactly the same, but completely different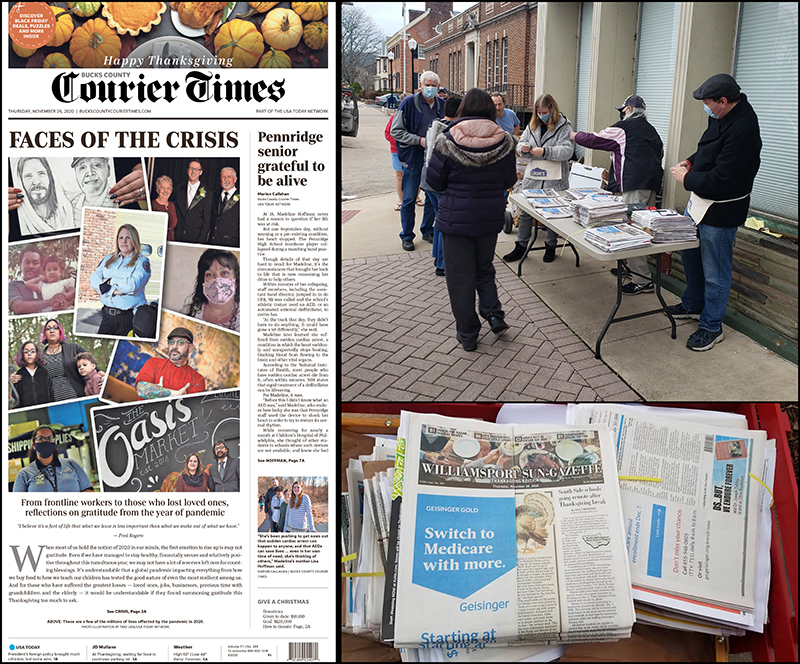 The Thanksgiving newspaper has traditionally been a celebrated edition for most Pennsylvania publications. From special content for readers and special placement for advertisers, to the famously high number of inserts serving both, Thanksgiving editions have long been unique. "We've always tried to do special content for special days," said Shane Fitzgerald, Pennsylvania state editor for the USA Today Network for Gannett. "We tailor content and prepare for special events and occasions within our community." Fitzgerald said that along with the content for the Thanksgiving edition this year, Gannett's papers offered a new ad initiative for advertisers to be placed within that content.
Matt Miller, chief revenue officer of Trib Total Media, echoed the sentiment expressed by Fitzgerald as he described Trib's plans for the holiday season. In addition to an "Everybody Saves" coupon book featured in the Thanksgiving Day edition, the Greensburg publication ran a special section highlighting downtown Greensburg holiday events and includes holiday greeting ad pages throughout December in all publications. "These are programs we do annually to attract specific types of businesses," said Miller. "They require very targeted programming, in order to get [advertisers] to promote their business." Miller and the Trib team also launched a new program called Get More in Q4, which features multimedia packages with a mixture of ad tactics that Miller thinks is a good fit for many local businesses. "While most stuff we do is led by salespeople, this effort is being led by our marketing team and digital agency (535media)," he said. "I am very excited to see if we can generate some interest, but am also prepared to pivot, if we're not seeing results early on."
Another element emphasized in the Thanksgiving editions across the state is the "Shop Local" message and related advertising sections and options. "If there's any year to shop local it's this year," said Bob Rolley, publisher of Williamsport Sun-Gazette and Lock Haven Express of The Ogden Newspapers. "With the recent (COVID-19) pandemic surge, local stores and retailers are being creative and making a multi-faceted approach to holiday shopping this year. We're here to support them." Rolley said that advertising businesses that took part in the Shop Local tabloid in the Thanksgiving edition received a discounted rate in addition to better visibility. Trib Total Media had a special Shop Local holiday section in the Black Friday edition and Gannett's publications featured articles encouraging readers to shop locally and offered local advertising options.
Although the special content and advertising has historically remained the same for holiday editions, the evolution of the proverbial elephant in the room cannot be ignored: the cost of creating and assembling the special editions has increased while advertising income generated from them has decreased. This has forced many publications to consider alternative pricing options for the holiday editions. "There is a significant expense," said Fitzgerald. "There is a lot of labor that goes into delivering the Thanksgiving Day papers that we don't have the rest of the year. Before, advertising dollars would cover that, and that is just not the case anymore." Miller said Trib publications charge the Sunday rate for the holiday editions and Rolley confirmed the same for his publications. Rolley, however, offered a special discounted price for readers who came to pick up the special holiday edition on between 3 and 4:30 p.m. the day before Thanksgiving. "If they pull up to buy it, then we made it 50 cents cheaper than the regular store price," he said.
Fitzgerald said that his publications have increased the cost of the Thanksgiving edition several times in the past decade, first shifting to the Sunday rate before a move to $5 for the edition several years ago. He said that while readers expressed some disappointment with the increase, the response was not an overwhelming one. He said he understands that most, if not all, of the Gannett papers across the country had moved to that pricing, something other organizations were also considering.
"The cost to produce and price to purchase might shift for holiday editions," said Fitzgerald, "but the quality of the content, and relevancy and value of the advertising within them will largely remain the same."
For additional information, contact:
Shane Fitzgerald, Gannett, (215) 949-4160, sfitzgerald@couriertimes.com
Matt Miller, Trib Total Media, (724) 350-7718, mmiller@triblive.com
Bob Rolley, The Ogden Newspapers, (570) 326-1551, ext. 1123, brolley@lockhaven.com