Promotional Spotlight: The Express's Shop Local Program
Promotional Spotlight: The Express's Shop Local Program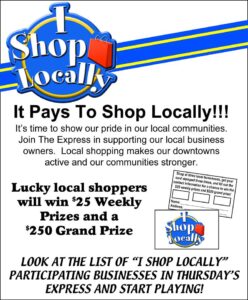 To encourage area residents to support their local businesses, The Express (Lock Haven) launched a "Shop Local" program. Consumers are encouraged to visit participating merchants to pick up a card, and have it stamped at one of the 12 retail locations. When the card is stamped three times, it is placed in the drop box at one of the stores. One lucky card is selected each week, and the winner receives a $25 gift certificate from one of the eligible businesses. The grand prize winner receives $250 at the end of the promotion.
For an affordable investment of $450, the retailers who participate in this program receive a 3 col x 2″ ad in the newspaper every Thursday for 12 weeks, along with a stack of cards to distribute to shoppers, a stamp and stamp pad, a drop box, and a flyer to post at their business to showcase their participation in the program.
For more information, contact Jordan McCloskey at jmccloskey@lockhaven.com.