The Times Leader - Working the Trades
Working the trades works wonders for Wilkes-Barre
One of the most effective ways newspapers can reach a niche audience in their markets is with special sections. These supplements take on a theme near and dear to a reader's heart, such as holidays, weddings, health care or football. They offer advertisers the opportunity to target their products and services directly to their intended demographic.
The Times Leader Media Group in Wilkes-Barre took its special section game up a notch with its first "Working the Trades" section. This powerful little packet combines two popular special section topics, careers and continuing education, and ties them right back to the community by showcasing some of the strongest economic drivers in the region: manufacturing and trades.
After forging relationships with schools, local businesses and nonprofits like Johnson College, Sordoni Construction and the Northeastern Pennsylvania Industrial Resource Center, an idea was formed by Publisher Kerry Miscavage to produce a regional guide directed at a unique niche in the market: high school juniors and seniors.
The goal of this direct-mail piece was twofold. It would let students in the region know there are options outside of a four-year college degree program in northeastern Pennsylvania. In addition, it would serve as a reminder that colleges and trade schools in the area offer two-year degrees and certificates that can open the door to immense opportunities within a job sector that is:
Grossly understaffed.
High-paying with great benefits.
Abundant in northeastern and central Pennsylvania along with the Northern Tier.
It was now up to the Times Leader's advertising sales team, led by Diane McGee, to reach out to the area trade schools, colleges, manufacturers, construction companies and others in related fields to see who wanted to be a part of this unique endeavor. The response was overwhelming, resulting in a 32-page tabloid stacked with advertisements.
Not only were schools placing ads to encourage enrollment, but local manufacturers took out half- and full-page recruitment ads. Advertisers that never appeared in print were lining up to be a part of the inaugural edition.
Times Leader newsroom Editor Roger DuPuis created articles highlighting regional colleges and manufacturers, as well as local success stories. There are plans to expand beyond the initial 32-page product next year.
To reach those who prefer to read their news digitally, "Working the Trades" was emailed to 50,000 parents throughout the region. In addition, the section has "set up shop" on the Times Leader Facebook page, with a link directly tied to the digital edition.
This is a great example of how newspapers can not only increase their revenue and attract new business but also serve the members of their communities in profound ways. Connecting the next generation to meaningful educational and employment opportunities in their own backyard, sponsored by the Times Leader Media Group, is surely a win-win for all!
For more information about "Working the Trades," or Times Leader please contact:
Kerry Miscavage – Publisher – kmiscavage@timesleader.com – 570-704-3953
Diane McGee – Advertising Director – dmcgee@timesleader.com – 570-704-3955
Roger DuPuis – Newsroom Editor – rdupuis@timesleader.com – 570-704-3989
The Tribune-Democrat's Johnstown Magazine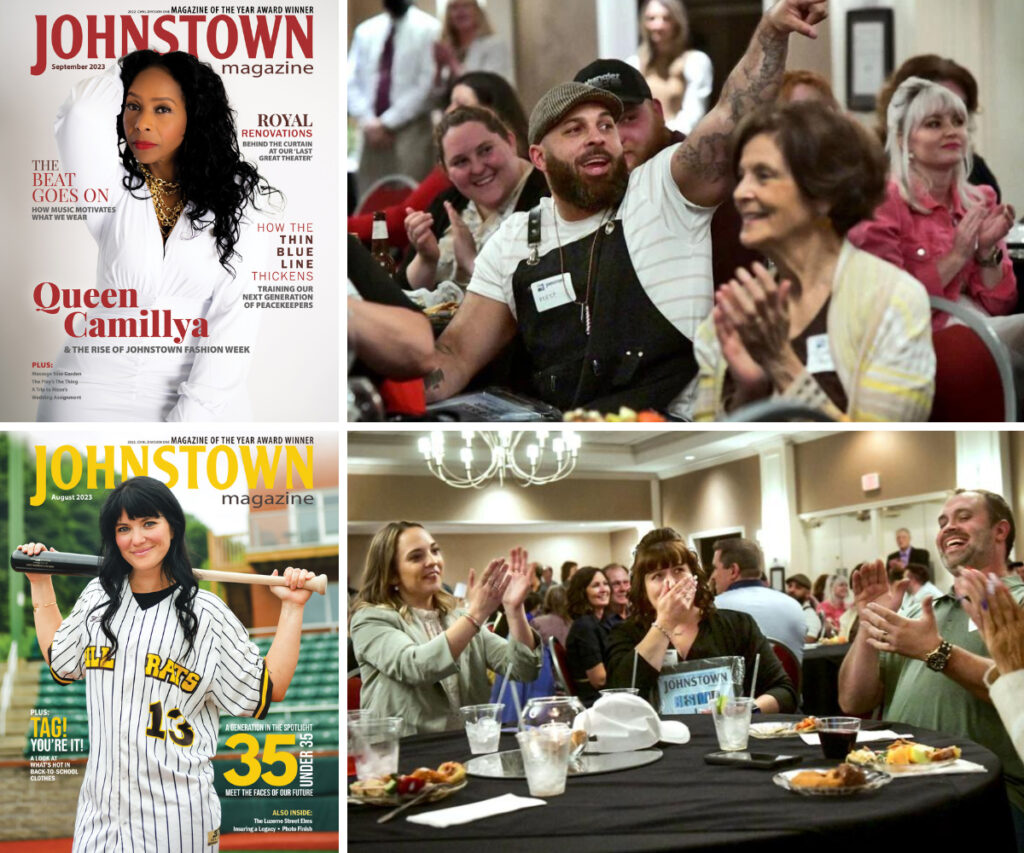 The Tribune-Democrat (Johnstown) produces a glossy monthly publication, Johnstown Magazine, for residents of and visitors to Cambria County. Since its debut in 2005, the lifestyle magazine has included pieces on food and dining, fashion, history, entertainment and interesting people.
Each month, a special feature focuses on topics ranging from senior living to home improvement.
In June, the publication hosted a live event to reveal the winners of its "Best of Johnstown" contest that awarded prizes in more than 80 categories. The distribution of that month's issue was held until the day of the event to help build the suspense.
Advertisers vary based on the special feature topic each month, but include health care providers, local manufacturers, tourism groups, education centers, community groups and restaurants.
Johnstown Magazine is available through home subscription and at retail locations. To introduce a new audience to the 2,500-circulation publication, all attendees of The Tribune-Democrat's popular winter bridal showcase receive a one-year subscription to the magazine.
Johnstown Magazine was recognized by the publication's parent company in its 2022 "Best of CNHI" journalism awards. The publication was named CNHI's Division I Magazine of the Year.
For more information about Johnstown Magazine or The Tribune-Democrat, please contact:
Chip Minemyer – Publisher – cminemyer@tribdem.com – 814-532-5111
Shane Riggs – Editor – sriggs@johnstownmag.com – 814-539-5374
Christine Marhefka – Director of Advertising – cmarhefka@tribdem.com – 814-532-5042