Student Journalism Projects
2022-23 Student Journalism Projects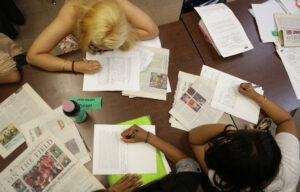 The PNA Foundation recognizes that student journalists do amazing work throughout the school year.  It's uplifting for anyone who cares about the news media industry to know that creative, committed and passionate students are excelling at what we love.
To have your school's project(s) added to this page, email Teresa Shaak with an explanation of your project with all applicable links and/or PDF attachments. 
---
2021-22 Student Journalism Projects
Below are just some of the many excellent student projects shared and highlighted from the 2021-22 school year.
---
Cabrini University – The Loquitur
The students have built an online relationship connection with a young woman who used to live in Wayne, Pennsylvania, where Cabrini University is located.  Check back soon for continuing coverage.
Dasha's story: From Ukraine, former Wayne, Pa. woman shares journey, rescue efforts – Loquitur
Voices of Ukraine: Volunteers, working to save refugees from war, talk of the need for prayers and to "close the sky"
Dasha's story: From Ukraine, former Wayne, Pa. woman shares journey of escape, refugee crisis and rescue efforts – includes photo story
The student journalists of The Loquitur jumped on the BIG breaking-news story on the leaked draft of the Supreme Court decision.
Students, faculty offer mixed reactions to the draft of a leaked majority Supreme Court decision to overturn Roe v. Wade
Content provided by: Marion Samkavitz, Adviser to The Loquitur
---
Tyrone Area High School – The Eagle Eye News
The local Chamber of Commerce sold and hung banners in downtown Tyrone to honor local veterans.  The students started a project to write biographical stories about the veterans on the banners and created QR code posters to put on the light poles so pedestrians could use their phones to read about the veterans on the poles. Six stories were done last fall and more are in production right now. The plan is for this to be an ongoing project and add more stories each year!
Here is the link to their story and a copy of The Eagle Eye News flyer and an example of the poster put on the light poles.
Content provided by: Todd Cammarata, Adviser, The Eagle Eye News
---
York College of Pennsylvania – The Spartan
The Spartan has been collaborating with The York Dispatch to give student writers' talents a much bigger audience.
A few weeks ago when masks became optional, class members fanned out to get student reaction.  The story appeared in The Spartan (see link below) as well as in The York Dispatch.
Snapshots from the first day that masks were no longer required – The Spartan
Content provided by: Paul Vigna, Journalism Professor, York College of Pennsylvania
---
View our Students, Advisers & Teachers Page.
Our mission is to provide training and resources to our members, to develop the next generation of readers and journalists, and to educate the public on the importance of the First Amendment and the role of a free press.