PNA's Legal and Legislative Services
PNA works tirelessly for improved open meetings, open records, and public notice laws. As part of our Government Affairs services, we monitor every bill going through the state capitol that could affect the way news is gathered, and we lobby in the best interest of the industry and the public.
Building Relationships with your Legislators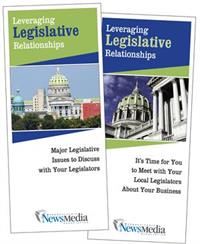 Legislators make key decisions about your business in Harrisburg. Developing ongoing relationships with your state elected officials and participating in legislative advocacy is an essential part of being an effective leader of a community newspaper. Here are two brochures with additional information.
There's no better time to work on developing and improving connections with legislators. For further information, e-mail Holly.
Tips for Meeting with Your Local Legislators
Our staff attorneys answer questions and offer guidance through the Legal Hotline. Calls about the First Amendment, open meetings, open records, gag orders, subpoenas and more are free to all employees of member newspapers. You can also read online information on legal topics that affect newspapers.
Newspapers deal with legal questions on a daily basis.
What about a threatened libel suit?
Was a school board in an illegal executive session?
Do you risk reader ire by running that accident scene photo?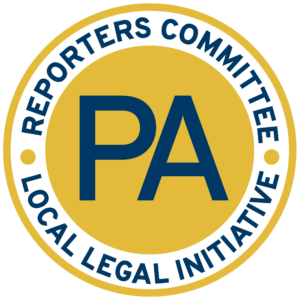 What is the Local Legal Initiative?
The Local Legal Initiative provides local news organizations with the direct legal services they need to pursue enterprise and investigative stories in their communities. Reporters Committee attorneys will be based in key regions across the country to help local news organizations and journalists throughout the area defend their rights to gather and report the news, gain access to public records and court proceedings, and hold state and local government agencies and officials accountable to the public.
Who Funds the Local Legal Initiative?
The Local Legal Initiative is partially funded by a generous investment from the John S. and James L. Knight Foundation. The Reporters Committee and our partners are seeking further philanthropic support to match the Knight Foundation's investment in order to sustain and expand the program.
In 1994, the Pennsylvania Newspaper Publishers' Association published a compilation of laws affecting newspapers, the Newspaper Handbook. Since that time, the laws affecting newspapers have changed, and the demand for an updated version of the Handbook has led to a 1998 version and this updated and greatly expanded 2000 version.
The Pennsylvania NewsMedia Association Newspaper Handbook is designed to serve as a legal reference tool for newspaper publishers, editors, reporters, and business personnel. It contains summaries of laws which affect the editorial, operational, and advertising functions of a newspaper.
The Handbook has been formatted to allow easy revisions and additions. The material it contains will need to be periodically updated by the Association because of the ever-changing laws affecting newspapers. The Handbook is meant as general information only, and specific legal questions should be directed to an attorney.
Each year in March, news media organizations across the country celebrate Sunshine Week. We take this time to highlight the importance of transparency in our government, and we underscore the vital work our journalists do to fight for access to records that shed light on government activity.