Sunshine Act Compliance Concerns
What are the Sunshine Act and Right to Know Law?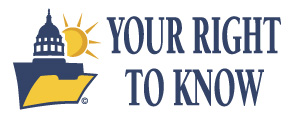 The Sunshine Act and Right to Know Law are Pennsylvania's primary public access laws. These laws guarantee the public's right to access government information at public meetings and through public records. Public access to meetings and records is fundamental to the public's ability to understand government actions and hold government officials accountable.
The Sunshine Act
The Sunshine Act applies to public agencies, which include Pennsylvania executive branch agencies, the General Assembly, and municipal authorities, such as township boards of supervisors and local school boards. The Act requires agencies to hold public meetings any time a quorum deliberates agency business or takes official action. As with many laws, there are exceptions to the public meeting requirements of the Sunshine Act, but the law begins with a statement of intent, stressing the right of the public to witness the decision-making process to ensure that the democratic process functions properly.
The Right to Know Law
The Right to Know Law applies to executive branch agencies and local agencies, including school districts, townships, other municipalities, and authorities. The law also applies on a limited basis to the General Assembly and to the court system's financial records. The law begins with the presumption that records in the possession of government agencies are public records and must be provided within the framework of the law. There are exemptions to the law that allow agencies to deny public access, but the law places the burden of proof on an agency to show why a requested record is not public.
Sunshine Act Compliance Concerns
York Dispatch
LNP / LancasterOnline
Herald-Standard (Uniontown)
Erie Times-News
York Dispatch
Delaware County Daily Times
The Philadelphia Tribune
Observer-Reporter (Washington)
Beaver County Times
Erie Times-News
Pennlive / The Patriot-News (Harrisburg)
Clearfield Progress
The Almanac (Washington)
Erie Times-News
The Morning Call (Allentown)
Erie Times-News
The Daily Item (Sunbury)
York Dispatch
Associated Press
York Dispatch
Herald-Standard (Uniontown)
Citizens' Voice (Wilkes-Barre)
LNP / LancasterOnline
New Castle News
Citizens' Voice (Wilkes-Barre)
Observer-Reporter (Washington)
The Indiana Gazette