New audio content from the world of residential real estate now available to PNA members
Introducing an exclusive opportunity for PNA members
Your Valuable Home (YVH), a popular Philadelphia radio show that has been re-invented as a podcast in 2021, is now offering a cost-efficient license to hundreds of hours of YVH programming. Your Valuable Home aims to help homeowners and residential real estate investors build wealth with real estate, choose the right contractor for the right job at the right price and avoid costly home improvement mistakes.
All episodes of Your Valuable Home are approximately one-hour long. The first episodes to be made available for licensing are those that were broadcast over Talk Radio 1210 in 2019 – 2020.
Through a simple license, YVH content is available to boost your newspaper's coverage and provide new revenue streams.
The hosts of Your Valuable Home will drive listeners to their newly released podcasts to a listing of all PNA licensee online publications offering content from previous episodes via links to be found at www.youvaluablehome.net
Each Show Contains Three Segments
Home Improvement Replay
An inside look at a recently completed project or a project in progress. Replays can facilitate project planning.
Horror Story
Offers stories of homeowners who have been ill-served by contractors. Horror Stories can prevent costly home improvement mistakes.
YVH College
Includes interviews with experts across the country on a wide range of subjects that impact homeowners. YVH Colleges give PNA members access to advice from experts nationwide, without the expense of assigning reporters.
Using YVH Content to drive readers, visitors, revenue
YVH content is fresh, has broad appeal, and is very affordable.  Through the license agreement, new revenue possibilities are possible:
Create 52 special sections with YVH content per episode and sell the sponsorships to local businesses.
Sell sponsorships to the edited versions of our MP3 files and post them on your online editions.
Host a sponsored reader contest to solicit topic suggestions for Pennsylvania targeted YVH episode.  The Your Valuable Home production team will create two shows per 12-month period, especially for PNA member readers/ listeners.
Target the perfect categories with each of your sponsorships:
Hardware stores
Local banks
Insurance brokers
Podcasting is booming and there has never been a better time to start.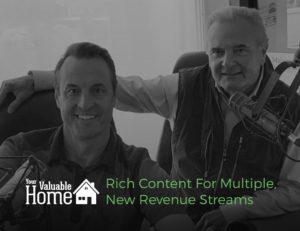 Members create an account at www.yourvaluablehome.net. The YVH website has a sample of three shows from the 2019 – 2020 broadcast year on Talk Radio 1210, the top talk station in Philadelphia. The creation of an account is required to listen to and download all 2019 – 2020 currently archived shows.
Payment of the licensing fee for 52 approximately hour-long episodes in a 12-month period may be made by credit card or electronic check.
Two Types of Licenses
Print and Online Use
MP3 audio files archived at www.yourvaluablehome.net may be downloaded and transcribed by PNA licensees.
Audio Files for Online Use
Historic – Broadcast flies remixed to podcast-type format with a 2-minute segment for commercials to be sold by
PNA members.  (Editing, re-mixing cost to delete commercials and add a podcast intro and outro to be quoted per licensee.)
A decision on the release of 2021 podcast files to be made later this year, as inventory builds.
Download the YVH licensing guide to learn more about the low-cost option to access this valuable content.
Download the YVH Licensing Guide
Interested in learning more about the opportunities provided by Your Valuable Home, contact Ron Melk, by phone (267-261-0291) or email (ron@melkcom.com).
Kevin Kennedy is a working, award-winning contractor – first to introduce multiple, well-known home improvement products, including the original Alcoa Mastic Cedar Discovery Siding. Kevin, who has been featured on the cover of Fine Home Building magazine, has been in business under the same name for more than 30 years – VSP Home Remodeling.
Ron Melk has extensive background in advertising, promotion and creating and producing award-winning radio and TV programming. Ron was formerly a partner in a promotion agency named the best in American by Adverting Age magazine.